two home-like apartments with sizes of 30 or 35 m² and a total of 9 beds are located on the first floor of the REBgut manor house. We have placed great emphasis on a smart room layout with variable use. We are particularly proud of the decoration with regional art. Both apartments have a spacious roof terrace with a view of the vineyard. They are equipped with everything that you are used to and you will immediately feel at home. The names are an homage to the origin of our REBgut: "Riesling" (up to 4 persons) and "Hölder" (up to 5 persons).
View floor plan of the apartments.
Price from 110 €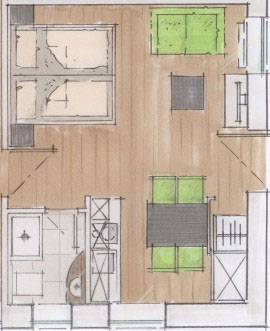 The almost 30 square meter apartment "Riesling" offers comfortable living space and space for up to four people. The functional sofa bed, the separate bath / shower area, the kitchenette, the multi-purpose table - everything is well thought out and designed for optimal use. The special thing about it: the spacious terrace with space to read, chill and relax. Our tip: A good book and a chilled glas of Riesling wine in the warming evening sun.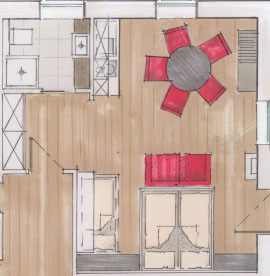 The light-flooded apartment of the same name presents itself as individually as our Hölder grape. Over 35 square meters of feel-good area with a magnificent view of the vineyard and the surrounding area towards Oberlauda village. A lot of comfort for a couple, because the other three beds are elegantly hidden in a Murphy bed and the couch. Even with full occupancy with five people, you won't get in each other's way. In addition, the large terrace offers an attractive opportunity for relaxation and leisure time outdoors.